Class F
Welcome to Class F
We are a class of 21 students from Years 5 & 6. Our teacher is Mr Midgley and we have two Teaching Assistants on different days: Mrs Johnson and Mrs White.
Our science topic this term is Forces
Our topic is based on World War 2
We have PE on Tuesdays and Fridays this term.
Please have your PE kit in school all week as sometimes we swap our PE day over.
Class F evacuated to Home front stronghold!
Class F visit to 'We'll Meet Again' Museum
As part of our WW2 topic, the members of class F travelled back in time to the 'We'll Meet Again' home front museum. Great effort had been made to get into character as the children dressed as evacuees (they looked amazing!!) and boarded the transport to take them to safety.
Greeted by 'Sarge', the children meekly lined up and then split into two groups: one group looked at the lives of women and children - rationing, toys, clothes etc whilst the other group were treated to a Blitz experience.
This was an amazing day and well worth a family visit (Frieston shore - just 30 minutes drive away).
Galleries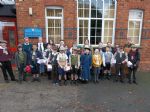 Class F Home Front