Class F Years 5 and 6
Our teacher is Mr Midgley and he is helped by Mrs Johnson.
This term we are looking at Early Islamic Civilisations and contrasting it with what was happening in Europe at the time.
PE is on Tuesdays and Fridays so please wear PE kit to school on those days with a school jumper over the top if it is cold.
We are being blinded by inspiration in Science as we have just started our Light subject.
Weekly spellings are done on Ed-Shed now.
Also number fluency practice is available at the same site and is highly recommended!!
Greek Pots
History in the making
We learnt that a lot of what we know about ancient Greece came from artefacts that were found and interpreted. The Ancient Greeks were very keen on decorating pottery to depict different parts of their lives.
We decided to create a pot and decorate it with aspects of 2021. Who knows? In 2000 years' time, there may be some archaeologists investigating our lives and piecing clues together from these pots!
Galleries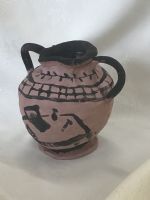 Ancient Greek Shield wall