Blue Class - Years 5 and 6
Our teacher is Mr Midgley and he is helped by Mrs Johnson.
As we come to the end of another school year we say good luck to the Year 6 leavers and send them on to the next stage of their adventure!!
PE is on Tuesdays and Fridays so please wear PE kit to school on those days with a school jumper over the top during the day and an alternative plain sweatshirt to change into for the lesson. This term we will be learning rounders skills on Tuesdays and striking and fieldingon Fridays.
Weekly spellings are done on Ed-Shed now.
Also number fluency practice is available at the same site and is highly recommended!! If there are any misconceptions or further practice of what the children did in the maths lesson, then this can also be found on EdShed. Just a few minutes will probably help everything become clear and a bit of practice will make it second nature.
Class F visit to Bolingbroke Castle
Bolingbroke - Birthplace of Henry IV!
Extending our monarchs topic, we decided to investigate the birthpalce of Henry IV - King of England between 1399-1413. Just a few miles from our school, the remains of Bolingbroke castle provided Class F with a great opportunity to practice our geography fieldskills: We measured the dimensions of the walls, plotted the main features of the site to create our own map and also developed our landscape sketching skills further.
It took a long time but look at the models that the children made from their measurments of the castle.
Galleries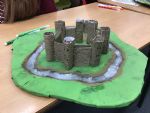 Bolingbroke Castle Models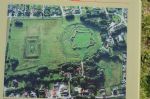 Bolingbroke Castle Trip