Galleries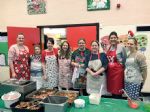 PTFA
Our PTFA
Mareham Le Fen has an active PTFA made up of around 15 members who meet regularly throughout the year. We have run several events to raise money to provide the 'extras' that the school budget doesn't allow for. Our most recent fundraisers have included a Summer fair, Bingo nights, Winter Wonderland Christmas film night and a Body Shop party. We also provide events for the children that are not aimed at making money which are very popular. These have included a Leaver's Prom for Key Stage 2 Children and Christmas Lunch for the whole school, which is prepared, cooked and served by the PTFA team. We also open up the Peace Garden to visitors for the village Scarecrow weekend displaying Scarecrows made by the children.
Do you want to join us?
We are a very welcoming group and are always looking for new members to join us, whether this is coming to the meetings or just offering your help at fundraising events. New members mean new ideas! The PTFA has funded a new fence for the Peace Garden, trips and pantomimes. Without the extra money the PTFA raise, some events within school would not be able to go ahead. If you would like to find out more about what we do, please contact the school office and they will introduce you to one of our members.